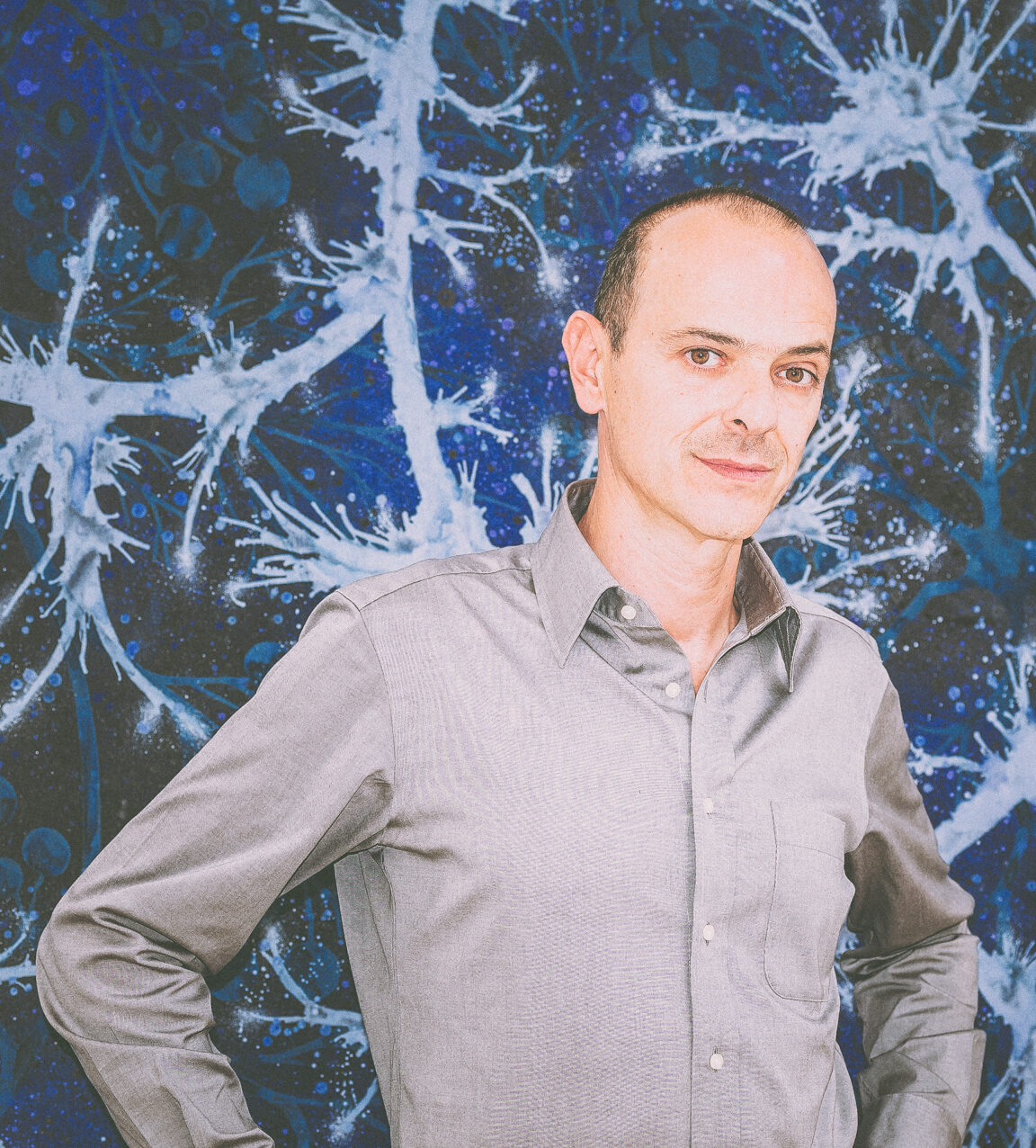 BIOGRAPHY
Alberto Di Fabio was born in Avezzano (AQ) in 1966. He studied at the Artistic High School and the Academy of Fine Arts in Rome and at the Urbino Academy of Engraving. He lives and works between Rome and New York. His work is inspired by the cosmos and the elements that make up the world of nature. His painting studies chemical reactions, mineral fusions, atoms, DNA, the neural system, magnifying them as under a microscope.
These geometric shapes often turn and vibrate on his brightly-colored, pure canvases, creating contrasts and harmonic scales, tonal variations and surprising combinations that involve the viewer in kinetic extra-sensory visions. Complex structures that offer us an incursion into the incessant changes of the psyche in relation to external influences, it turns and catches the value of life in the universe, in the biological breath of all living beings. He then assembles these elements into personal air installations, geometries suspended in space representing the divine concept in a cosmic dance.
Exhibitions
Palazzo Acquaviva, Atri (TE) (2018) Académie royale d'Espagne, Rome (2017) Palazzo dei Diamanti, Castello Sforzesco, Porta degli Angeli Gallerie Ferrara Luca Tommasi (2016) Macro, Rome, Mart, Rovereto (2015) Gagosian Gallery Genève, Castel Sant Elmo, Naples, Menegaz Fondation, Castelbasso (TE) Cerrn, Genève, (2014) Estorick Collection, Londres, Mairie du 4è arrondissement, Paris (2013) national Gallery of Modern Art e Contemporanea, Rome, Collicola Palais des Arts visuels, Spoleto (PG) (2012) Gagosian Gallery de Londres (2002, 2007) Beverly Hills (2004) New York (2010), Athènes (2011) Galleria pack, Milan (2005, 2007, 2010). Umberto Di Marino, Naples (2004, 2007, 2011, 2017) Kunstverein de Bregenz (1997) Rupertinum de Salzbourg (1996). En 2010, il reçoit le prix de la Fondation Michetti pour l'édition Dante Ruffini et Maddalena Pettirosso, fondée par l'astrophysicien Remo Ruffini.