EX TEMPORE
Pablo ATCHUGARRY/Sergio FERMARIELLO/Mario SCHIFANO/Fabio VIALE
18/04/2019 – 31/08/2019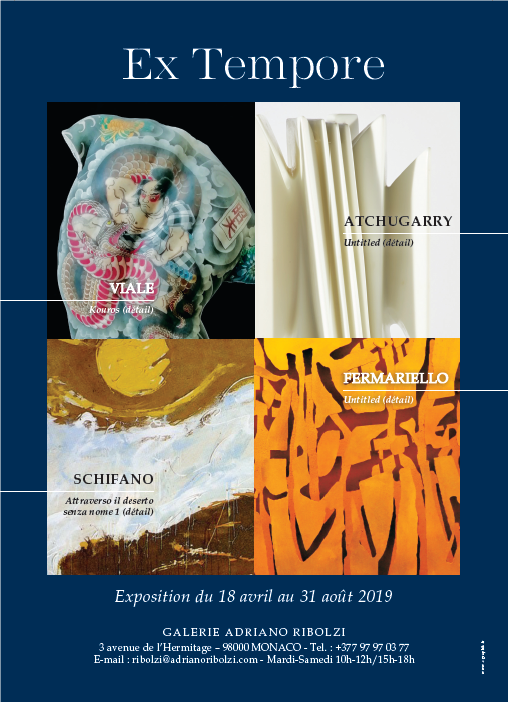 EX TEMPORE – Pablo ATCHUGARRY/Sergio FERMARIELLO/Mario SCHIFANO/Fabio VIALE
04.18.2019 – 08.31.2019
When four Italian artists of such remarkable aesthetic power come together, we witness a unique and daring artistic confrontation. From Mario Schifano, considered one of the most eminent artists of Italian postmodernism, you will discover in particular 4 monumental, masterful pieces from the series of paintings produced in Libya; passing by Pablo Atchugarry major contemporary sculptor, new pieces of marble or bronze all in poetry; you will be amazed by the phenomenon Fabio Viale, an atypical sculptor who breaks the codes with his ultra-realistic marble sculptures; and Sergio Fermariello and his iconic warrior on horseback …
Pablo Atchugarry (1954 – ) is an Uruguayan artist, living and working in Italy, best known for his abstract sculptural art. Since 1989, his poetic sculptural style has caused Atchugarry to express himself through monumental works in various marbles with preference for Carrara marble. Considered as a major contemporary sculptor, his works are included in many high collections, both private and public, and he has held more than one hundred solo and collective exhibitions worldwide.
Sergio Fermariello (1961 – ) is an Italian artist, born in Naples. At the age of 20, he decides to devote himself exclusively to Art. In 1989 he exhibited his works for the first time in a one-man show at the Galleria Lucio Amelio with which he embarked on a long working partnership. The same year, he won the Saatchi & Saatchi international Prize for Young Artists at the Palazzo delle Stelline in Milan. In the middle of the 80's, his subject tended towards grainy images and repeated signs from which would emerge the warrior, an icon that was to be a regular feature of Fermariello's works. In 1993 he was called by Achille Bonito Oliva to participate in the Venice Biennale with an individual room in the Italy Pavilion.
Mario Schifano (1934 – 1998) was an Italian painter best known for his Postmodern collages combining advertising imagery, wrapping paper and painted elements. His work often referred to popular culture or art history featuring wellknown brand logos or kitsch recurring motifs in the vein of Pop-Art. Constantly adapting to contemporary culture, Schifano worked in numerous media, shifting between film, music or photography – often employing more than one at a time. He was invited to the Venice Biennale in 1982 and 1984 ; during this period, Schifano focused on nature emerged (fields, waves, deserts using sand…). He is one of the most important artist from the Post War period.
Fabio Viale (1975 – ) ) is an Italian sculptor who uses a traditional and pretentious medium to reflect on contemporary thought and behavior, with references to art history – a focus on Italian sculpture – and symbols that have and continue to influence human beliefs and ideals. His remarkable technical mastery allows the artist to create from marble accurate and intricate replicas of everyday objects and life-size Venuses or Madonnas, with the texture and appearance of Styrofoam, paper, rubber or tattoed skin.