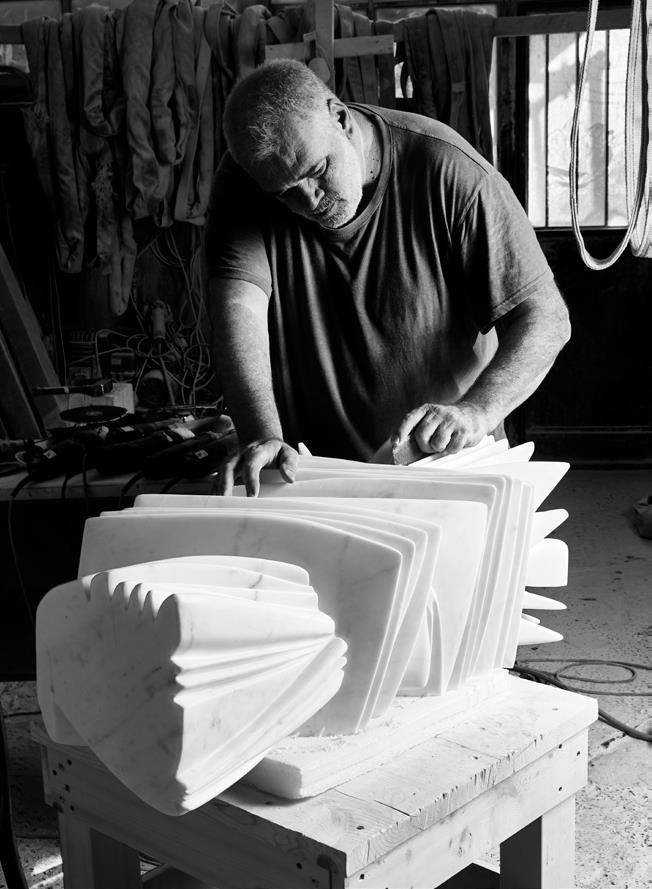 BIOGRAPHY
Pablo Atchugarry was born in Montevideo, Uruguay, on August 23, 1954.
His parents, María Cristina Bonomi and Pedro Atchugarry, both of them passionate art lovers, realized their son's skills and encouraged him to express himself through drawing and painting from an early age, a discipline in which Pedro himself engaged on a part-time basis, albeit with great commitment.
In 1965, at the age of 11, Pablo took part in his first-ever exhibition in Montevideo, a collective event to which he contributed two paintings.
Subsequently, he pursued his search and began to experiment with different materials such as clay, cement, iron and wood. In 1971, he created his first sculpture in concrete, titled Caballo [Horse].
He gradually began to take an interest in the expressive possibilities of these materials sand and cement , sometimes adding iron and lead. This is how the Escritura Simbólica, Estructura Cósmica,
Metamorfosis Prehistórica, Maternidad and Metamorfosis Femenina [Symbolic Writing, Cosmic Structure, Prehistoric Metamorphosis, Motherhood and Feminine Metamorphosis] works saw the light in 1974, in which the profound and specific aesthetic sense that now characterizes him was complemented by a beautiful and heartrending expressive capacity.
In 1972, Atchugarry staged his first individual exhibition of drawings and paintings at the SUBTE Exhibition Center in Montevideo, which would be followed by different exhibitions between 1974 and 1976 (the Lirolay Gallery in Buenos Aires, the 15th International Paris-South Salon, Porto Alegre, São Paulo, Brasilia and Rio de Janeiro; he met the extraordinary Iberê Camargo during the Rio event).
In 1977, the sculptor began to roam Europe, visiting countries such as Belgium, Denmark, France, Germany, the Netherlands, Spain, Switzerland and Italy.
He held his first individual painting exhibition in Lecco (Italy) in the Visconti Gallery in 1978. That same year, Atchugarry showcased his work in La Nuova Sfera Gallery in Milan and in La Colonna Gallery in Como, when he presented drawings in Chinese ink and watercolor. On that occasion, Mario Radice penned an article for the La Provincia a daaily of Como titled "In La Colonna, excellent Chinese ink drawings by the Uruguayan sculptor and painter Atchugarry". In 1979, this Uruguayan with an Italian heart saw one of his dreams come true: his first individual exhibition in Paris in the Maison de l'Amérique Latine, and subsequently in Chur and in Stockholm.
During his spell in Paris he created the preparatory drawing of La Lumière, his first sculpture in marble, for which purpose he moved to Carrara.
His encounter with marble and its quarries literally bewitched him forever: it was the discovery of a material that would be with him for the rest of his life. An apothegm by the sculptor helps us to grasp this mystic, beautiful and primitive relationship: "It was like finding true love".
After that year, Atchugarry would return to Carrara on countless occasions to personally choose the monumental blocks of marble that he used in his work. The Uruguayan says that sculptures are born of his direct dialog with the material, which he calls, following the pantheist conception to which he innately relates, "The children of the mountain".
In 1982, he decided to settle in the city of Lecco, and after a long spell at Carrara he found, in the "Il Polvaccio", quarry, the 12,000-kilo block of marble in which he would sculpt La Piedad [Mercy], a deeply personal and heterodoxically religious creation nevertheless reminiscent of his admiration for Michelangelo, and which has fascinated specialized critics and well-known buffs and collectors, such as Glenn Close, Michael Douglas and David Rockefeller, alike. This work, which the artist completed in 1983, is now housed in its own lay chapel in the sculpture park of the Foundation of Manantiales,
a gorgeous natural beauty spot located in the Department of Maldonado, Uruguay, between the countryside and the seaside.
During 1987, the artist's works were exhibited in the Crypt of Bramantino of the Basilica of San Nazaro in Brolo, Milan, with a presentation by Raffaele De Grada. As of 1989, Atchugarry began to express himself through monumental pieces which now form part of public and private collections the world over. In 1996, a year in which the artist also dabbled in olive wood, bronze and Portuguese pink marble, he sculpted the Semilla de la esperanza [Seed of hope] work for the sculpture park of the Government House in Montevideo, and, in 1997 he staged an exhibition in Caracas, where he met Jesús-Rafael Soto and other colleagues of exquisite renown and sensitivity.
In 1998, the Veranneman Foundation in Belgium organized an individual exhibition of his sculptures accompanied by an essay by Professor Willem Elias.
On September 25 1999, the Pablo Atchugarry Museum in Lecco was officially opened, housing the standing exhibition of the work that plots Atchugarry's artistic path, from his early paintings through to the most recent sculptures, as well as the archive of his output. In 2001, the city of Milan hosted the Las infinitas evoluciones del mármol [The infinite evolutions of marble] retrospective exhibition at the
Isimbardi Palace. That same year, Atchugarry created the imposing 6-meter high marble sculpture called Obelisco del Tercer Milenio [Obelisk of the Third Millennium] for the city of Manzano (Udine).
He also won a national contest to create a monument which was to be a testimonial to civilization and to the work ethic, which was unveiled in Lecco in May 2002.
In recognition of his artistic career, in July 2002 he was honored with the Michelangelo award from the city of Carrara. During this period, Atchugarry worked on several projects, including the Ideales [Ideals] sculpture, for the 50th anniversary of the coronation of Prince Rainier of Monaco, which now stands in the Avenue Princesse Grace in Montecarlo.
In 2003, Atchugarry represented Uruguay at the 50th Venice Biennial with Soñando la Paz [Dreaming Peace], an installation comprised of eight marble cultures. That same year, he assembled his second exhibition at the Veranneman Foundation in Belgium and created the Ascensión [Ascension] sculpture for the Fran Daurel Foundation in Barcelona.
In 2004, twenty-five years on from his last exhibition in Uruguay, the Tejería Loppacher Gallery staged his first individual exhibition of sculpture work in Punta del Este. The following year, the National Museum of Fine Arts of Buenos Aires organized an individual exhibition of his work.
Moreover, in 2006, the Groeninge Museum in the city of Bruges organized a major retrospective exhibition of Atchugarry with works culled from private collections from all over the world. Four years later, the Museum purchased a sculpture for its own collection.
That same year, the João Berardo collection in Portugal purchased Camino vital (1999) [Life's Path], a work of almost 5 meters high for the Belém Cultural Center in Lisbon.
The Pablo Atchugarry Foundation of Manantiales was created in 2007 to provide a meeting point for artists from all disciplines, an ideal nexus between nature and art where every recital, air exhibition every conference is free and open to children of all ages. That same year, Atchugarry completed his first 8-meter high sculpture, titled Nel cammino della luce, sculpted in a single block of Carrara marble weighing in at 48 tons for the Loris Fontana collection in Italy.
In 2007, a traveling exhibition of his sculptures toured different sites in Brazil: the Bank of Brazil Cultural Center in Brasilia and the MuBE (Brazilian Museum of Sculpture) of São Paolo. This exhibition was accompanied by a text penned by Luca Massimo Barbero, titled Elespacio plástico de la luz [The plastic space of light].
In 2008, Uruguay's foremost museum, the National Museum of Visual Arts, organized a retrospective exhibition of his work spanning the last fifteen years of his artistic output, a unique symbolic testimonial to the artist's importance.
In 2009, a monumental 5-meter-high work called Luz y energía de Punta del Este [Light and energy of Punta del Este], executed in Carrara marble, was officially unveiled in the famous Uruguayan spa in Punta del Este.
After seven years of hard work, in 2011 Atchugarry completed Cosmic embrace, a sculpture towering more than 8 meters high, cut out of a 56-ton block of marble. In November that same year he held his first individual exhibition in New York's Hollis Taggart Galleries.
In March 2012, the Times Square Alliance chose his Dreaming New York piece to be exhibited in Times Square during the 18th edition of the Armory Show of New York.
In July that same year, two stainless steel sculptures were exhibited in the gardens of St. James Square in London as part of the "City of sculpture" program organized by the Westminster City Council.
Towards the end of 2013, the Electa publishing house in Milan produced two volumes of the Catalogo Generale della sculturade Pablo Atchugarry [General Catalog of the Sculptures of Pablo Atchugarry],
curated by Professor Carlo Pirovano. The third equally important volume, another extraordinary landmark for a living Latin American artist, would arrive in 2019.
Between April 2015 and February 2016, the Imperial Forums Museum of Rome housed, in Trajan's Markets, the Città eterna, eterni marmi [Eternal city, eternal marble] exhibition, a major retrospective collection comprising more than forty works.
Moreover, in 2017, the Brazilian Museum of Sculpture of São Paulo hosted the largest-ever retrospective edition of Atchugarry's work, titled Un viaje a través de la materia [A journey through matter].
The Pablo Atchugarry Foundation was officially opened in Miami in 2018. Subsequently, at the beginning of 2019, the President of the Italian Republic bestowed the honorary title of Order of the Star of Italy upon him for his work in bringing Italy and Uruguay together culturally.
In May 2019, the Contini Art Gallery in Venice inaugurated an individual exhibition titled The Movement of Light. That same year, between June and September, the individual exhibition called The Evolution of a Dream, organized jointly with the Communal of Pietrasanta, was staged in the Piazza del Duomo, together with a selection of monumental marble, bronze and steel sculptures in the church and the cloister of Sant'Agostino.
In July 2019, the Doge's Palace of Genoa provided the incomparable backdrop for the Alla conquista della luce [Conquering light] exhibition, accompanied by an essay authored by Luciano Caprile. In December that same year, the Diálogo en blanco y negro [Dialog in black and white] joint exhibition was held in Miami: an exchange between two apparently different albeit deeply similar souls: those of Atchugarry and Louise Nevelson; work and time were the variables around which this intimate connection was structured.
Several exhibitions featuring the work of Pablo Atchugarry have toured different cities all over the world: London, New York, Miami, Montevideo, Buenos Aires, Paris, São Paulo, Curitiba, Brasilia, New Orleans, San Francisco, Amsterdam, Bruges, Brussels, Singapore, Seoul, Milan, Turin and Venice, to name but some. Atchugarry's works are exhibited in the leading international museums, from the National Museum of Visual Arts of Montevideo to the Chrysler Museum of Norfolk, in Virginia, or the Groeninge Museum of Bruges, the Berardo collection in Portugal, the Raccolta Lercaro Museum of Bologna, the Parco Museum in Portofino, the Pérez Art Museum and the Patricia & Phillip Frost Art Museum in Miami.
At this moment in time, the artist lives and works between Lecco and Manantiales, where he is developing the Pablo Atchugarry Foundation and the International sculpture park project, as well as the exhibition areas intended to disseminate art. These different initiatives are visited every year by thousands of students.
Moreover, his main task is to create the Museum of Contemporary American Art, designed by the architect Carlos Ott, which will house continental art masterpieces.
As a child, Pablo learned to understand and love plants and animals, and in the course of this last decade he has been promoting a project for a wildlife and autochthonous flora nature reserve called "Tierra Garzón" in the town of the same name in Maldonado, when he has planted sixteen thousand native trees and plants that provide a natural redoubt for the local wildlife.
Pablo Atchugarry represents one of the most interesting and dynamic realities of sculpture in the world, and his work signifies identity, aesthetics and timelessness at the same time.