Rétrospective Sayed Haider RAZA
Sayed Haider RAZA
17/11/2010 – 15/01/2011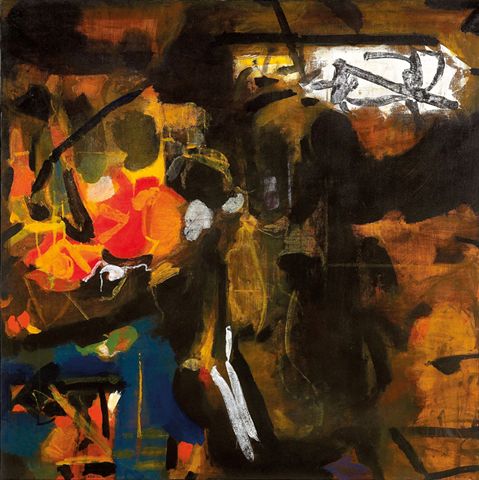 Retrospective Sayed Haider RAZA

11/17/2010 – 01/15/2011
Following the success achieved in 2010 by the exhibition of the great Indian Masters S.H. Raza, M.F. Husain and F.N. Souza and their followers, the Adriano Ribolzi Gallery presents today a retrospective of the best years of Sayed Haider Raza produced with the help of the expert in his work and his friend, Mr. Michel Imbert, Art Historian.
A catalog was published on this occasion.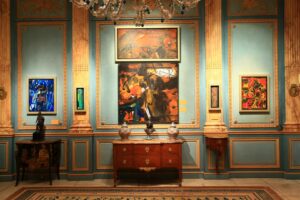 "They represent the fulfilment of a desire of 35 years and tell a story of human and professional encounters.
When I opened my Gallery in the Principality of Monaco in 1974 my great and unforgotten friend Neville Wadia, an eminently cultured man of great human qualities, told me about Raza, an Indian painter of whom he owned several works and whom he had received in his home in Bombay.
Knowing that Raza and Janine Mongillat, his wife, spent their summers at Gorbio, Neville arranged a meeting.
To discover this painter, from whom an extraordinary aura emanated, was for me a revelation as well as the beginning of a beautiful friendship.
When I decided in 2009 to extend my activity to Modern Art, I talked to my old friends Michel Imbert, actually the leading expert on Raza, and Luc Lanlo
about a possible exhibition of the painter's works.
Thanks to them and to Sharan Apparao, a first exhibition with paintings by Raza, Husain and Souza opened in June 2010.
I feel elated and honored that the cooperation with these friends allowed me to present for the first time in the Principality of Monaco three of the great masters of modern Indian painting.
The actual exhibition, a Raza retrospective, has again been rendered possible thanks to the collaboration of these three experts." A. Ribolzi
"Since studying the artist at university I dreamt of putting together an exhibition about the life and work of Raza between 1950 and 2001, an exhibition based on paintings of his in private collections.
Due to the valuable contacts I was able to maintain among the friends of Raza and Janine Mongillat, his wife, I have finally been able to realize this project.
The exhibition, as it now stands, displays a part of Raza's vision from his arrival in France in 1950 to the year 2001, laying out his evolution from descriptive and later abstract works to his mature art with the Bindu and on to his White Period, Shanti – peace.
The project was rendered feasible thanks to my friends Adriano and Niky Ribolzi who since the early 70s discreetly but efficiently support Raza's work. Through their trust I was enabled to assemble paintings that mostly have never left the homes of friends of Raza and Janine, friends and art lovers who acquired the works directly at the painter's atelier.
With one assent they offered to contribute to this exhibition and I gladly seize the opportunity
to thank them cordially. I am also greatly indebted to Janine Mongillat who motivated and supported her husband consistently, permitting him to persistently concentrate on his art, and I wish to thank Sharan Apparao, the owner of a gallery in Madras, who has organized exhibitions with outstanding works of Raza in India and New York.
Most of the exhibited works originate from French private collections, but others have come all the way from India." M. Imbert